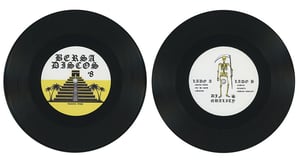 $

10.00
On the heels of our five-year anniversary, we're excited to drop a brand new Bersa Discos 12" release laced with dancefloor heat (from bachata, rap, r&b, and heavy 808 cumbia) plus a fresh addition to the label's roster - Chicago's DJ Quality.
Hailing from Chicago, the 25-year-old Mexican producer was once firmly rooted in straight rap, but he eventually began combining the Latin rhythms of his youth with more modern club sounds. Now, his efforts have culminated in Bersa Discos #8, a six-track outing that finds him weaving together bits of cumbia, bachata, Southern hip hop, R&B, Baltimore club, and more. Simply put, the results are a potent mix of hard-hitting beats and club-ready latin jams.
Much like the Little Village neighborhood he hails from, DJ Quality straddles two worlds. Although his Latin heritage undoubtedly plays a significant role in his musical vision, Quality's production sensibilities clearly stem from years of bumping rap music on the radio and hearing Chicago-bred electronic music in the club. Bersa Discos always reps the intersection of sounds and cultures, making Quality a natural addition to the crew.